Will Verizon offer the Samsung Galaxy Tab on November 1st?
9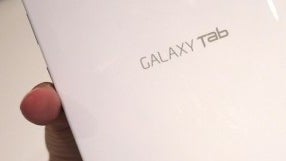 T-Mobile and Sprint are rumored to be selling the Samsung Galaxy Tab for $399 with a two-year contract. Sprint is said to be offering the device at $599 without, while T-Mobile is slightly more expensive at $649.
With the rumor mill spinning rapidly on this highly anticipated Android-powered tablet for many networks, it was only a matter of time until Verizon joined the fray. The rumor is that the Samsung Galaxy Tab will be offered by big red starting on November 1st. No pricing has been leaked in regards to this device, however.
The pricing for Sprint and T-Mobile is all unofficial, as is this Verizon release date. With that in mind, is it fair to assume that Verizon will follow suit of the other networks rumored pricing and offer it for $399 with a two-year commitment as well? Leave us your opinions in the comments below.
source:
Droid Life
via
Androinica