Will Dudley Do-Right save the Apple iPhone 5s from an oncoming train?
20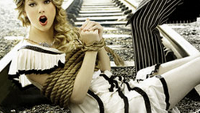 Can an
Apple iPhone 5s
stand up to an oncoming train and survive the impact? YouTube channel
TechRax
taped two Apple iPhone 5s handsets, one at a time, to a railroad track. We should point out that this is against the law because you are not allowed to hang around active train tracks. According to the Federal Railroad Administration, trespassing is the leading cause of railroad related deaths in the states. That figure reached 500 last year. But we digress.
In the first test, a black Apple iPhone 5s was strapped to the track as though it were a damsel in distress, waiting for Dudley Do-Right to come along and save her. But there was no saving the iPhone. As a GoPro camera recorded the impact, the microSIM card survived while the rest of the phone went to smartphone heaven. In the second test, a white Apple iPhone 5s met the same fate. Actually, the white handset had it worse, as the phone and its micro SIM card, were pulverized by the rushing train.
So what exactly has this test proved? After all, no handset would be able to survive being run over by a train. At this stage, most smartphone users would be happy if their device were merely waterproof.
source:
TechRax
via
CNET