Wi-Fi 802.11n for T-Mobile's Samsung T-959?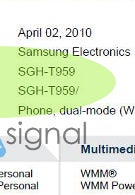 Based on the certification it received from the Wi-Fi Alliance, Samsung's SGH-T959 model will be loaded with Wi-Fi 802.11n along with "b" and "g". According to CellPhone Signal, the T959 is an Android flavored unit expected to be available at T-Mobile. The device will have a 320 x 480 resolution display, a camera with unknown specs, Bluetooth
2.1
, aGPS and 3G connectivity. The handset could be loaded up with Android 2.1 right out of the box. As far as a launch date and pricing is concerned, no information has been released. The good news is that the Wi-Fi Alliance has let us know that such a device does exist so it's merely a matter of waiting for more news on the model.
source:
CellPhoneSignal