White Galaxy Nexus 16GB coming to Verizon on April 5th?
18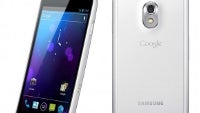 We've been seeing photos of the
Samsung Galaxy Nexus
all decked out in white
, but so far no word on a U.S. release date. According to a device launch schedule given to Droid-Life, it appears that the 16GB version of the Galaxy Nexus will be arriving at Verizon on April 5th in both the white and gray variety.
While many of you will be disappointed that there won't be a white
32GB
Galaxy Nexus, it may be good news for those hoping to score a Galaxy Nexus at a more equitable rate – it seems likely that the launch of the versions with less internal memory will be concurrent with a reduction in price. At that point we'd expect the Galaxy Nexus to be $199 on contract, and likely less from other retailers or through Verizon's online specials.
It's important to note that these device launch schedules aren't iron clad – they're more like "guidelines", but they generally indicate the earliest a device can launch. There's little reason to expect a delay in a phone that's already shipping in a similar form, so in this case the April 5th date is likely to be correct, give or take a week. If you've been hankering for a Verizon Galaxy Nexus but didn't want to pony up the $299 on contract, start saving your pennies now, as a cheaper one will most likely arrive early next month.
source:
Droid-Life