Which phone do you like more: iPhone X or Pixel 2 XL?
99+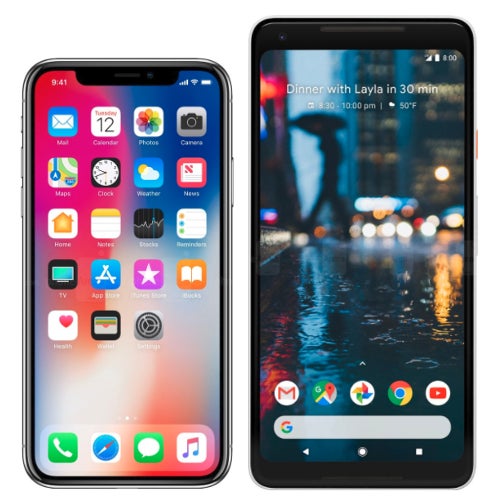 So, we are past the announcements of these two huge phones — the
Apple iPhone X
and
Google Pixel 2 XL
— and we mean huge for the industry, not the form factor. At first look, one might wonder why we would go comparing these two phones against one another, since the Pixel 2 XL is a rather large phablet with its 6-inch screen, while the iPhone X is noticeably narrower with its 5.8-inch display.
But both of these phones signify something else — they are both their manufacturer's respective "step forward" this year. What we mean is this — Apple outed the
iPhone 8
and
8 Plus
with the very same form factor it has been using for the past 3 years. Then, it announced the iPhone X, with the 18:9 screen ratio, super-thin bezels, and all the latest Apple tech in the front camera module.
Google did something similar, although with less emphasis on exclusivity between devices. The regular-sized Pixel 2 maintains the old aspect ratio and huge bezels as the oldschool smartphones. The Pixel 2 XL gets 18:9 screen ratio and the new form factor.
So, in short, the Pixel 2 XL is the most advanced phone Google has to offer and the iPhone X is the most advanced phone Apple has (will have in a month...) to offer. Which one of the two do you like more?