Which 2018 iPhone model are you most excited about?
36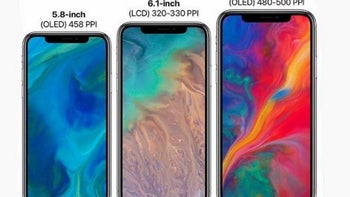 OK, OK, so it's not official and it's not set in stone... But a ton of leaks have us believing that there will be three new iPhones this year. All of them will have the cool new iPhone X shape, Face ID, and possibly Animoji, but they will be spread in different price brackets.
The $650-$700 spot will be taken by the "LCD iPhone" a.k.a. iPhone 9 or whatever Apple decides to call it. It'll have a 6.2-inch display with an LCD panel and a single camera on the back. Basically — your iPhone 8 upgraded with the thin bezels and notch design.
Then, there's the 2018 iPhone X, which will be a direct successor of last year's model and have a 5.8-inch, OLED display and a dual camera on the back. This time around, it'll be placed in the $800-$850 bracket.
The iPhone X Plus is, presumably, going to have a 6.5-inch OLED display and maybe, possibly, a triple lens camera on the back. This one will — you guessed it — hit that $1000 threshold.
Some people are genuinely excited about the LCD iPhone — finally, we will get a new Apple phone that is not shaped like an
iPhone 6
and that does not cost an arm and a leg. Fair enough! Others are pumped about the iPhone X Plus. The 19:9 edge-to-edge screen stretched to 6.5 inches — that's going to be pretty, for sure! And there are those that will be happy to see the "regular" iPhone X reiterated and refined with a slightly lower price to boot.
Which camp do you fall in? Which of these
presumed
new iPhones are you most excited about!