WhatsApp for iOS is free for a limited time
29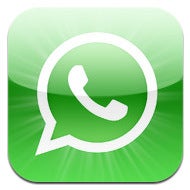 You've surely heard about WhatsApp, haven't you? It is a popular messaging platform that works across different mobile operating systems, meaning that Android users can send free messages to their iPhone-rocking friends and vice versa. And the app is pretty successful too as it has attracted over 20 million users to date.
Until recently, iOS users who wanted to download WhatsApp on their iPhone had to pay $0.99 for it, but for a limited time, the app will be available free of charge. And no, there won't be any pesky ads spoiling the experience, so no need to worry about that.
At the same time, the pricing scheme of WhatsApp for Android remains unchanged, with the app itself being free to download, but a $0.99 yearly fee being applied after 12 months. You can go download WhatsApp on your iPhone or Android device by visiting the
Apple App Store
or
Google Play
respectively.