What do you dislike about the Galaxy S4?
99+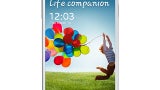 Ah, the
Galaxy S4
! It's definitely one of the very best Android smartphones around, and yet, we're sure that there is a good number of people out there who hate it. By the way, there's also a lot people who hate us, but that's only because we have money. Anyway, the Galaxy S4 sure has its enemies, but why? What could be wrong this seemingly perfect Android smartphone?
Hm, when you think about it, there are some things that can easily irritate users. How about the cheap-feeling plastic? You buy an expensive gadget and all of a sudden, it feels like your 5-year-old son's toy-phone. You press the buttons to change the volume and they hardly budge. And what about the silicon? You buy the latest Samsung flagship and expect it to have a super-duper Exynos CPU inside, but instead, you get that Snapdragon 600 that will end up being in almost any other high-end Android phone... Not to mention the lack of S Pen, Xenon flash, full-size USB port and, worst of all, a Floppy Disk Drive. Tell you what, when we buy a premium smartphone in 2013, we expect it to have ALL the features, not just a generic specs-sheet. Quad-core processor? Great, welcome to 2012, buddy!
Disengaging 'Hate mode' in 3, 2, 1... So, we all know that the Samsung Galaxy S4 is an amazing smartphone, probably the best out there, but we wondered - is there something that you don't really like about this handset, guys? It could be the lack of a feature that you wanted really bad (FDD?), or something in the phone that you think Samsung hasn't gotten quite right. Well, we shared some of our ideas with you, now it's your turn to turn on the Hate mode!