Weird statistics: more Indians have mobile phones than have toilets
46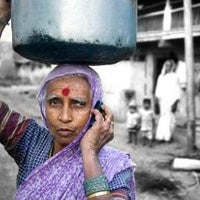 What comes first, we asked ourselves, after reading this weird piece of statistics, the chicken or the egg? In India, it seems like it's the egg. The way technology is adopted in the second most populous country in the world is funny, weird, but also very telling.
The Indian government itself has released 2011 census data bringing out this stark contrast:
only 46.9% Indians have lavatories, while 53.2% of households have a mobile phone
and 63.2% have a landline phone. What happens to those without restrooms? 49.8% of the Indian population (or nearly half a billion people) defecate in the open. In some regions, in-house restrooms are a rarity - over 75% of people don't have them.
While these literally dirty facts may sound disturbing, they're telling about how important communication is to people. In a society where many lack the most basic facilities, state-of-the-art technology is widespread.
India is still largely uneducated about the dangers of the unhygienic practices.
"Cultural and traditional reasons and a lack of education are the prime reasons for this unhygienic practice. We have to do a lot in these fronts,"
Registrar General and Census Commissioner C Chandramouli said.