WebOS talent continues to jump ship
4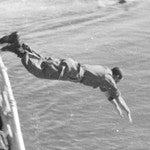 Hot on the heels of last week's announcement that
Jon Rubinstein was leaving HP
, WebOS' chief architect Brian Hernacki is reported to also be leaving the company. Will this exodus of talent impact the future of WebOS?
It's worth noting there is a parallel to this: Shortly after HP bought Palm there was a mini-rush of employees that leapt ship for greener pastures – quite literally "greener" in the case of
Matias Duarte
, who went to Google to become the user experience director for Android. Other early defectors included Senior VP Michael Abbott .
Did that original talent drain affect the outcome of WebOS products at HP? It's hard to say for sure, but it should be noted that Duarte became the driving force behind the highly regarded Android 4.0
Ice Cream Sandwich
that saw a major overhaul to the UI – a software update released in the same year as HP's TouchPad failed so miserably that the company pulled the plug on WebOS hardware altogether.
And now, in the middle of another transition, some of the key people that stayed on to try and see WebOS through to success are leaving during the transition to open source. Will this hurt the chances of WebOS gaining developer support and OEM traction? It's impossible to say, but the loss of key people certainly won't help.
source:
The Verge
via
webOS Nation