Watch the iPhone 6 getting hardboiled, in a pan of sizzling Coke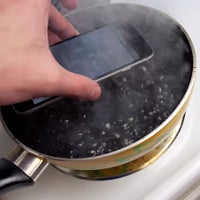 The
iPhone 6
and
6 Plus
had their fair share of torture scenarios when introduced, as they were
dropped
and
efforts to bend them
were made quite often in the first few weeks after release. Now that the dust has settled over Apple's newest handset models, it's time for more refined interrogation techniques.
How about boiling the
iPhone 6
in Coke? We bet you never thought of that, but this is why the world now is one big global village, as one human on the other end had this idea instead of you, and took to YouTube to tell the tale. Needless to say, the iPhone 6 stopped working after being boiled in hot, simmering Coke for a while, but we are more interested in what happens with the heated beverage afterwards - does it cure all illnesses after being boiled silly? That's how big inventions are made, folks.