Watch how an "Apple freak" automated his house for $80,000
20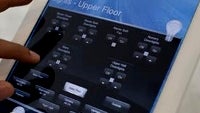 The lack of a common home automation standard has so far been prohibitive to the mass adoption of this technology that allows us to control lighting, HVAC, appliances and electronics in our homes from afar.
That doesn't mean you can't reach a pretty sophisticated level of automation with a certain amount of money or time on your hands, and that's exactly what Savan Kotecha, a songwriter for the X-Factor show, has done with its house.
As a self-proclaimed "Apple freak", he uses an iPad with the Crestron home automation app, and the respective paraphernalia of sensors, motors and remote-controlled thermostats, to the tune of $80,000 spent, to automate his house, and prove that even backend X-Factor staff seems overpaid.
The possibilities are endless - from feeding your cat while on vacation, to broadcasting video stream if you take care of a child or an elderly parent, to warming up your driveaway in the expectation of a snowfall, not to mention the usual light and air temperature controls. For more information on the competing home automation systems and apps for your iOS or Android device, you can read our dedicated article
here
.