Watch Robin Williams imitate Siri with a French accent
5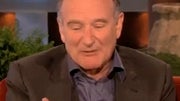 Robin Williams is generally pretty outstanding in all of his film and comedy roles, and now we see why. At Ellen DeGeneres's talk show he eventually bursts into impersonating Apple's Siri on a whim with a French accent, and makes one of the most hilarious performances on the matter we've seen so far.
Ellen infers that he is a geek, knowing his way around smartphones, and he uses an imaginary iPhone 4S in his hand to prove to her and the viewers that he is not reading that much into it so as not to make fun of new features.
Doing
skits about Siri
has become a favorite pastime for comedians these days, but improvising on a whim takes it to a new level. What can we say, the guy is brilliant!
via
GSMArena