Watch Newsom the penguin set a personal high score on an iPad game made for cats
11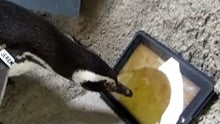 The animal caretakers at the Aquarium of the Pacific decided to kill some time by placing an iPad loaded with Game for Cats in front of a group of young and ambitious penguins, and hilarity ensued.
The penguins immediately locked that something was moving on the screen, and were pecking at the digital mouse imitation with fervor, gunning for the top score.
It was Newsom the penguin who set a personal record of 1600 points, which your average house cat would only laugh at, but try and dip a cat in freezing waters, said Newsom unfazed.