Warning: Verizon54.com wants to steal your Verizon Account
5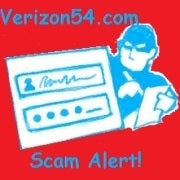 We've all heard about
Phishing web site scams
, that pretend to be legiminate, with the goal of stealing your account information.
Now there is a new one aimed at unsuspecting Verizon Wireless customers.
They receive an automated call showing the CallerID info "Technical Support 1-800-922-0204" with a recording saying to go www.verizon54.com and log-in, because you have received a special reward of $54 from Verizon. Even saying that it is because Verizon cares about you! (Be sure to check out the source link below to hear the message.)
This, naturally, is completely bogus, as
the site is designed to steal your log-in info
, if you happen to type it in and click "Sign in". In doing so, whomever is behind this fake site can use your info and log-in to the real VerizonWireless.com site and hijack your account.
If you have already fallen victim to Verizon54, you need to see if you can still log-in to your VerizonWireless.com account and change your password. Also, contact Verizon Wireless directly to inform them, so they can verify no changes or orders were placed on your account, and have their team monitor your account.
source:
Droid Life