Want to delete pre-installed apps without rooting your smartphone? Move to South Korea
15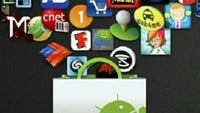 We're pretty sure that there's no smartphone user out there who thinks that pre-installed apps are cool. You can't delete them without rooting your handset, and they just take up space, although you don't really need them. Luckily, things might change in the future.
Come April, South Korean mobile users who buy new devices will be the first in the world to be able to delete apps pre-installed by carriers whenever they want. According to Yonhap News, South Korea's Ministry of Science, ICT and Future Planning is enforcing new guidelines for carriers, these allowing users to conveniently remove bloatware from their smartphones. Only "four necessary apps" will remain non-deletable starting April - these are related to the app store, client center, Wi-Fi connections, and NFC.
Reportedly, SK Telecom, South Korea's largest carrier, is a bloatware champ, pre-installing no less than 25 apps on smartphones like the Samsung Galaxy S4.
A Korean ministry official was quoted as saying that the new move will "normalize an abnormal practice that causes inconvenience to smartphone users and causes unfair competition among industry players." Abnormal it is - we all know it. So here's hoping that authorities in North America and Europe will follow soon with similar regulations.
source:
Yonhap News
(registration required to view the full article)