Want a 5,300 mAh battery in your Android smartphone? Check out the Philips W6618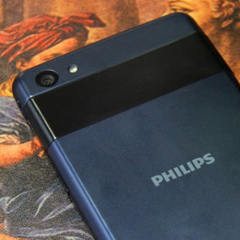 4,000+ mAh batteries are almost always reserved for tablets, not smartphones. However, there are a few handsets that offer such powerful batteries. Earlier this month, we presented you the
Eton Thor
- a China-made Android smartphone which features an impressive 5,000 mAh battery. Well, if you can believe it, there's another new smartphone that comes with an even bigger battery.
Meet the Philips W6618. According to CNMO, the W6618 was released in China yesterday for $273 (1,699 CNY in local currency). Its main selling point is a 5,300 mAh battery (non removable) that can provide a stand-by time of more than two months (1604 hours, or 66 days), and a talk-time of up to 33 hours. The rest of the handset's features aren't that great, though, including Android
4.2
Jelly Bean, a 5-inch display with 540 x 960 pixels, dual SIM capabilities, quad-core 1.3GHz MediaTek processor, 1GB of RAM, 4GB of internal memory, and microSD card support. The W6618 is 11.6mm thick, but that's understandable, given the size of its battery.
Usually, Philips smartphones are available only in Asia, although some are also sold in select European markets. Unfortunately, we don't know if this Philips W6618 will be released outside of China. But we'd definitely like to be able to test it. Meanwhile, you can check out the handset in the gallery below: