Walmart to offer new Apple iPad at 12:01 am Friday
7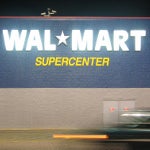 Beating the Apple Store
by a full 8 hours
, Walmart will be
hawking the new Apple iPad starting at 12:01am Friday morning
at its stores open 24 hours. There is some confusion over which model will be made available and the retailer's official word is that "
Specific model availability varies by store
." Even you call the store in advance, you will have to trust the word of a person on the other end of the phone who may or may not really know the answer to your question.
inventory is bound to be a lot smaller
than at the Apple Store. The official word from a Walmart spokesman is that the stores will have limited quantities of the device. If you get cut off at Walmart, by the time you head over to any of Apple's retail locations, you are bound to end up in the back of a very long line. You will need to make a tough decision pretty soon. It will require some guesses on your part, such as how many people you think will be heading to your local 24 hour Walmart, the number of iPads that the store might have on stock and which model they are carrying.
Let us know how it goes for you, and if you do snag an iPad just after midnight, drop us a comment in the box below.
source:
BGR