Wall Street Journal claims 200,000 subscribers via tablets
7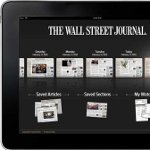 The popular publication the Wall Street Journal has made a claim that they have added 200,000 paid subscribers to their already hefty list via their mobile products for tablets and e-readers.
Les Hinton, the head of Dow Jones who publishes the Wall Street Journal, said that in the last year alone they have added 150,000 subscribers. Two of the primary devices to thank for the large numbers are the Apple iPad and the Amazon Kindle.
When speaking about the migration to mobile devices, Hinton said that "it's inevitable" and went on to say "the issue is balancing out the migration." Hinton also says he is pleasantly surprised by the general consumer's willingness to pay for a publication on a device such as a tablet. The Wall Street Journal cost's $3.99 on a weekly basis if you choose to subscribe.
The way media is being delivered to general public is changing rapidly, but it is very nice to see that a publication can find success outside of the printing press realm. Hopefully other publications can find this same type of success in a transition from print to digital media. Tell us what you think in the comments below.
source:
guardian.co.uk