WSJ sources confirm one-glass 5.2" Full HD display for the LG Optimus G2
27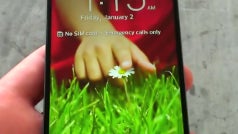 People "familiar with the matter" have confirmed for the Wall Street Journal that LG will indeed be placing a
5.2" display
on a device destined to be called
Optimus G 2
.
The publication continues that this might indeed be the same "world's slimmest" 1920x1080 pixels LCD panel that
LG bragged about developing recently
. LG calls its technology
Advanced One-Glass-Solution
(OGS), as dual flexible printed circuits are inserted between the panel and touch film, reducing by 30% the number of lines.
Each pixel contains regular RGB sub-pixels, and the display sports the pretty high
535 nits
of peak brightness, as well as a high contrast ratio for easier readability. Watch the 5.2" panel in action outside in this leaked video below, and summon up your patience until
August 7th, when it will all be revealed
.