WSJ: Google's 5.9-inch Motorola-made Nexus will be launched this month
37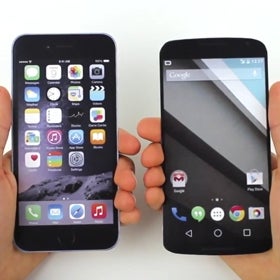 The Wall Street Journal today is reporting that Google will launch a 5.9-inch Nexus smartphone sometime later this month. Of course, this is what
we've been hearing
for quite a while now, so the report is far from being surprising - but it's still good to see more reliable sources confirming the arrival of a new Nexus.
As mentioned many times before, the upcoming device - codenamed
Shamu
- is manufactured by Motorola, and will be the most advanced Nexus handset yet. Its 5.9-inch display will have 1440 x 2560 pixels, while other features should include a quad-core Snapdragon 805 processor, 3 GB of RAM, 12 MP rear camera, and a 3200 mAh battery.
The WSJ has it that Google also plans to launch the latest version of Android - Android L - at the same time with the new Nexus (which, by the way,
might look like
the device seen above next to the Apple iPhone 6 Plus). Back in August, we told you that the name of the new smartphone
would be Nexus X, not Nexus 6
, but it remains to be seen if that's the case.
It's not clear exactly when Google will unveil the 5.9-inch Nexus, but we heard that it may happen
on October 15, or October 16
(that's next week!). Prices for the handset may start at $419. We'll be here to let you know more about this as soon as new details are available.