VooMote Zapper hands-on
2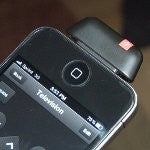 Calling all you couch potatoes that refer to your television remote as a lustful piece of technology goodness, you might bow down in awe with what appears to be a simple, yet practical adapter for the iPhone that seemingly turns the smartphone into an awesome
universal remote
– one you can say that rules them all. We've checked out universal remote gadgets for the iPhone before, like the
Griffin Beacon
, but the
VooMote Zapper
aims to be a wickedly compact and straightforward solution.
Honestly, you'd better watch out where you place the VooMote Zapper, well, that's because this
super tiny dongle
can easily be lost in the cracks of your living room couch. Yes, it's nice that it simply attaches to the iPhone's connection port, and is powered by it too, but there is a high possibility that you might lose it faster than your TV remote. Nevertheless, it packs an
IR blaster
that enables it to interact with all the popular home theater devices out there. From you television to your DVR, it replaces all those complex and sometimes confusing remotes into a simple thing on the iPhone.
After downloading the corresponding
VooMote Zapper app
onto the iPhone, we're able to quickly start using it thanks to its easy step-by-step setup. Actually, it merely asks for our make and model of our device, and from there, it automatically figures out the rest. However, in the event that the specific remote is not a part of its extensive catalog, we can manually program the VooMote Zapper by pointing the remote in the direction of the VooMote Zapper's IR blaster. With its interface, we like how we're able to organize things according to rooms – like the living room, bedroom, and den. At the same time, there are various windows we can swipe to gain access to the various remote control functions. In all honesty, it worked flawlessly in our quick look!
Above all, its
$69.99 starting price
is sure to attract a lot of attention, especially when other similar devices are priced higher. Additionally, it doesn't require the use of batteries, which is nice seeing it sucks the juice from the iPhone itself. Sure, the app might not offer the extensive social networking aspects found with comparable services, like
Dijit
, but hey, it's right to the point in getting us tuned to our favorite shows. And there's no more hassling with a bunch of different remotes to confuse us. You can't ask for more, right?
source:
VooMote