Virgin Mobile plans to throttle data speeds down starting in October
18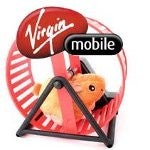 As we continue to see carriers
modify their service pricing structures to better adapt to the ever-changing times
, it's always nice to know that some are so willing to keep chugging along while offering unlimited plans.
Recently, we witnessed seeing
Virgin Mobile
making some
changes to their various wireless plans
– with some going up in price, while their unlimited plan was reduced by a mere $5. Nevertheless, Virgin Mobile customers on the carrier's unlimited plan can sleep soundly knowing they'll be able to consume as much data as their hearts desire.
Unlike some of the competition, Virgin Mobile will continue to offer unlimited data plans, but starting in
October
, they're moving to a new policy of
throttling
data speeds once the 2.5GB mark is obtained. In fact, they'll be reducing the speed to
265 kbps
, which places it somewhere along the lines of 2G speeds, but it's still much better than being required to pay overage fees and whatnot.
Sure, there are going to be some people upset by all this, but it's not an uncommon practice seeing that T-Mobile is one of the major players using this strategy for a while now. Or do you think it's better to see tiered pricing instead so that speeds are maintained?
via
IntoMobile