Video shows how to remove an S Pen stuck inside the Samsung Galaxy Note5
72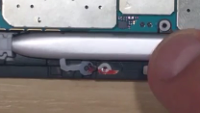 As we told you a few days ago, because of a design change on the
Samsung Galaxy Note5
, inserting the S Pen into the phone the wrong way
could leave it stuck inside the device
. And if you try to remove it, the mechanism inside the phablet can be broken permanently, thus preventing your Galaxy Note5 from recognizing when the S Pen has been pulled out and is ready to be employed.
If your S Pen is stuck inside your Galaxy Note5, there is hope. A video has been posted to YouTube, revealing a rather easy and inexpensive way to get your S Pen safely removed from your handset. All you need is a rolled up piece of copy paper, a scissor, and the ability to follow directions.
While you might think that no one in their right mind would insert the S Pen into their Galaxy Note5 the wrong way, all it takes is one distracted moment. Or, you might lend your phone to a friend, or your kids, and end up with the S Pen stuck and your phone in danger of being permanently damaged. If you find yourself in this position, your first instinct will be to try and pull the instrument back out, but that will only make matters worse. Just follow the directions in the video and your S Pen will soon be freed.
Thanks for the tip!
source:
How2Tech