Video of iOS 7 on iPad may show faster boot time
15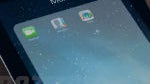 We've seen some
screenshots of Apple's new iOS 7
running on an iPad, and the screenshots we saw had some strange things in there like an iPad-optimized flashlight button, even though no iPads have a rear flash. Now, a new video has come out showing iOS 7 running on an iPad, but there isn't as much interesting here.
In this demo of the software, there is no flashlight button in the Control Center, so that doesn't help to answer whether or not the next-gen iPads will have rear flashes. In general, the video from Rozetked doesn't have a lot in there. The OS runs relatively smoothly, and the animations look nice. But, the software is buggy as expected, and actually has a force restart when attempting to open the Settings app.
Although that force restart was fairly interesting in itself, because it seemed to us that iOS 7 was much faster to boot up than previous versions of the software. Maybe we're just looking for something to find in the video though.
Recommended Stories