Video: Windows 8 and Microsoft OneNote 2013 in action on a tablet
4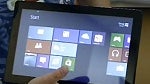 OneNote is arguably one of the best office applications Microsoft ever created. It was originally designed with the laptop/tablet convertible with pen input ability. However, the program is flexible enough to find use in just about any setting.
Microsoft has made no secret of the fact that Windows 8 is touch-centric. OneNote is a program which will benefit from that, and fortunately, it remains just as practical whether you use a Penabled or S-Pen tablet or not. For those that are wondering what OneNote is, think of it as an endless note book which can be managed in different sections and pages with very little effort. The search function is highly intelligent, able to recognize handwriting and in some cases, pictures. The program is very popular with students as it makes a great way to record, store and manage notes, information, even audio recordings from classes.
How would such a diverse application work and what would it look like with Office 2013 (to be released next year) in a Windows 8 environment on a tablet? Microsoft uploaded a webinar about OneNote and guides us through all the new menus, gestures and tricks of the program. Gone are the ribbons, and in their place are dynamic circular menus that present themselves when you need them.
For those that have been waiting to see what Windows 8 and the tablets that will run it have in store for you, you will find this walkthrough intriguing.
source:
The OneNote Blog
(Microsoft)