Verizon's system has the HTC Incredible listed?
This article contains unofficial information.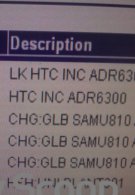 Although the HTC Incredible was missing from action during MWC, it seems like it isn't too long now before Verizon unleashes its next big Android handset. For a while there, rumors of the HTC Incredible for Verizon had people jumping up for joy until it was nowhere to be found during the biggest mobile event of the year. Even though it didn't get the opportunity to supplant itself as a major contender during the event, it may be here sooner than what you think. One of BerryScoop's tipsters was able to provide them a snapshot of the wireless carrier's inventory system that clearly displays the name HTC INC ADR6300 – it's almost sure to say that it's the HTC Incredible. With that in mind, generally it doesn't take too long before stores start seeing this handset arrive – much like how we've seen it in the past with other inventory rumors with Big Red.
HTC Incredible Preliminary Specifications
source:
BerryScoop
via
MobileCrunch