Verizon's Windows Phone 8X by HTC finally getting Portico update?
4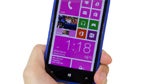 It has been over two months since the update started rolling out to other Windows Phone devices on other carriers, but by Verizon's standards that is actually kind of fast.
Verizon's support page still says "coming soon," but there are reports from HTC 8X owners on Verizon that have received notifications that the update is ready to install. Windows Phone version 8.0.10211 is the Portico update that started making the rounds in December.
The OS update makes improvements to overall device stability and provides some feature additions as well. Those additions include SMS call reject, Wi-Fi hotspot finder and persistent Wi-Fi connection (which used to disconnect when the device sleeps). On top of that, you will be able to select an MP3 file as a ringtone and send SMS messages to multiple recipients.
Let us know if you received a notification about the update. As of now, there is still no word on when the Portico update will be pushed out to Nokia Lumia 822 users, but this is Verizon so we are not holding our breath.
source:
WPCentral