Verizon's BlackBerry Bold 9650 makes a surprise appearance in a store banner
This article contains unofficial information.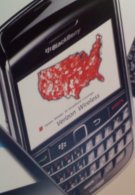 Sprint has let out
their version of the BlackBerry Bold 9650 already while Verizon is still taking a low key approach with the whole situation –RIM had to go out and officially announce the existence of the handset. At this point though, we've seen enough material to clearly say that it's for real even after Verizon may have
unofficially announced the handset
not too long ago after they launched their new NFL Mobile app. Finding themselves in yet another familiar situation, we'd imagine by accident, the handset was spotted in a Verizon corporate store banner with some of its other brothers and sisters. Although the cat may have been out of the bag a while ago, its arrival on the banner clearly shows that Verizon is indeed close to officially announcing the handset – which is of course going to be about time.
RIM BlackBerry Bold 9650 Preliminary Specifications
source:
CrackBerry