UPDATE: RIM introduces the BlackBerry Bold 9650 and Pearl 3G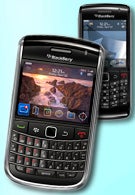 We have been hearing about these two devices for quite some time now, and it finally seems like RIM has decided to step on stage and announce the BlackBerry Bold 9650 and the BlackBerry Pearl 3G. Well, the manufacturer has not literally stepped on stage, as the information comes from TheStreet, but we presume they have no reasons to not tell the truth.
The
RIM BlackBerry Bold 9650
is of course a sequel to the highly-successful high-end smartphone, which will combine both
UMTS and EV-DO Rev. A
connectivity, along with Wi-Fi 802.11b/g for ultimate flexibility when it comes to OTA data transfers. The Bold 9650 will also sport a 3.2MP camera and GPS. According to the source, it will become available with Sprint as early as next month, but we have also seen proof it will make an
appearance with Verizon's logo
as well.
The other new handset, the
RIM BlackBerry Pearl 3G
, of which we've
also seen a lot of rumors
, is on its way to Canada through TELUS and Rogers. No word on U.S. availability for the Pearl 3G as of now. However, the RIM BlackBerry Pearl 3G will have
Wi-Fi 802.11b/g/n
for blazing fast data connection where a hotspot is available and will also sport a 3.2MP camera and GPS.
As you see, RIM is keeping the information pretty scarce right now, but we hope to know more details soon enough.
UPDATE:
Sprint has just come up with an official statement, confirming that it will be offering the BlackBerry Bold 9650, starting
May 23
. Check out this excerpt from the press-release:
"The BlackBerry Bold 9650 smartphone will be available for
$199.99
with a new two-year service agreement, after a $100 mail-in rebate (taxes & surcharges excluded). It can be purchased in all other Sprint sales channels, including Web sales (www.sprint.com), Telesales (1-800-SPRINT1), Sprint Business Sales, Sprint stores, national retailers and third-party dealers, Sunday, May 23."
RIM BlackBerry Bold 9650 Specifications
RIM BlackBerry Pearl 3G Specifications
source:
TheStreet
and
Sprint