Verizon spec sheet peep show reveals what's in the pipeline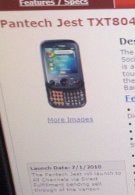 We just got some details for upcoming handsets on the Verizon network, and thought we'd break down the specs for you. While they are not all smartphones, it's always nice when we get tipped on yet unreleased handsets.
First in line is the beastly Motorola Droid X smartphone, which has been already announced officially, in all its 4.3" capacitive screen glory. Next comes a feature phone courtesy of Pantech, called the Jest. It is a low-end QWERTY slider, touted as a messaging device, which will have a 2MP camera with video capabilities. The Pantech Jest will come in bilingual English/Spanish interface, and feature a dedicated messaging key for social network updates, IM, browsing, or blogging. It is listed to launch in a few days on July 1st.
The other two offerings come from Samsung – a flip phone, and a netbook. The Samsung Haven has already slipped through the Internet cracks a few weeks ago under its SCH-u320 moniker. It is a basic flip phone designed with ease of use in mind – large number keys, voice commands and dedicated emergency calling buttons. "Lifestyle applications" round up the offering with reminder alarms, fitness app, and stress relieving music, whatever that is. There is no camera on this bad boy, and we suspect the battery life will beat every smartphone out there.
Another Samsung device finishes the list of our tipster, but this time it is the N150 netbook with Verizon's Mobile Broadband built-in, which is slated for a July 8th release. It's a basic ten-incher with the Intel Atom CPU, 1GB RAM, and a 160GB hard drive. The Early Termination Fee on this one amounts to the unpleasant $350, so don't think you can sign up and sell it on eBay, better do it with the iPhone. Independent reviews of Sammy's N150 have found the six-cell battery to run up to seven hours under normal use, which makes it a good device for on the go surfing.
Check out the leaked spec sheets below for the design looks. The netbook has a nice red stripe around it, huzzah!
Thanks, Striker!