Verizon says adios to the BlackBerry Curve 8330?
This article contains unofficial information.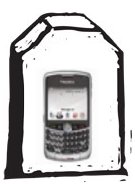 The sands of time may have taken yet another smartphone we all know and love off of Verizon's web site. Although reality will soon set in, we know that the BlackBerry Curve 8330 might be heading towards the stretch of its long life with the number one wireless provider. If you managed to check out Verizon's available phone lineup on their web site, you'll easily notice the absence of one of the best BlackBerry phones to hit the market. One thing that is eerily present is the fact that Verizon is still selling the BlackBerry 8703e – so it makes you wonder why they would remove the Curve 8330; which is still the most popular smartphone in the world. Yeah, we're sure that Big Red may be intent on getting people to move up to the BlackBerry Curve 8530 that's been known to be the replacement model. Still, you might find some luck in some stores that are still probably trying to move out shipments of the venerable smartphone so they're no longer collecting dust in their inventory.
BlackBerry Curve 8330 Specifications
|
Review
source:
Verizon
via
BerryReview