Verizon once again ranked king of the U.S. carriers
17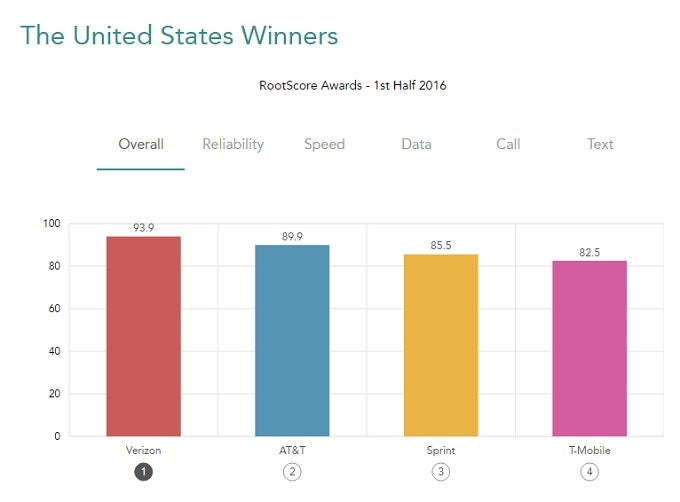 Though Verizon is
not always the subject of great press
, keeping almost 150 million subscribers happy at all times is quite the unenviable task. One of the reasons why it is the largest mobile carrier in the United States is that, on all-round performance, its services are difficult to match. Though T-Mobile and John Legere have made great strides in an effort to break the Verizon-AT&T duopoly, research gathered by RootMetrics has placed Big Red atop six tests on reliability, speed, data, text, calls and overall.
The figures took into account various aspects of network performance throughout the first half of this year. While Verizon comfortably claimed the gold medal in every category, RootMetrics ranked AT&T a close second as a
"strong number-two performer behind Verizon at the national level."
Sprint and T-Mobile managed third and fourth respectively in RootMetrics' findings. Both were found to be at their strongest in built-up, metropolitan areas, though T-Mo's general nationwide call coverage fell alarmingly short of its three main rivals. The tireless efforts of RootMetrics' research spanned the entirety of the U.S. population, leaving little doubt as to the conclusions drawn.
The full report makes for an intriguing read, which you may find at the source. RootMetrics has also posted a video summary of its findings, which we've embedded below.