Verizon nixes the one-year contract option from April 17th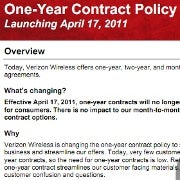 Big Red will no longer have the option to fall into its warm embrace for just a year. The only contracts you can sign will be for two years length, effective April 17th. Here's the memo sent to Verizon's stores nationwide:
"
From: Verizon Wireless
Date: April 6, 2011
Subject: 1-Year Contract Elimination
Effective April 17, 2011, Verizon Wireless will further simplify the VZW service experience by removing the one year customer agreement (CA) option for most customers.
This means VZW will no longer offer one-year CAs to consumers, including those who are "employee liable end users" (ELEU), any business customers without an ECPD profile and the "grandfathered" Alltel Lifetime customers.
For those agents/retailers whoa re authorized to support business customers with an ECPD profile, VZW will continue to provide the one-year CA for those types of customers, based on their negotiated agreements.
This policy change applies to all transactions, plan types, and device types. Customers should continue to be informed of all VZW service options available to them, such as Prepay, Month to Month, and 2 year CAs.
Thank you for your support with this change. Training to support the available will be available.
"
Granted, most people prefer their high-end smartphones in the $200 ballpark, so they sign up for two-year contracts anyway, but given how quickly phones depreciate these days, except for the iPhone, even one year contract seems long. Moreover, Verizon already changed the terms of the New Every Two program earlier this year.
According to Big Red these moves aim to simplify life for consumers, but when has cutting down on choices been a good thing, and not only in the cell phone plans universe. All current yearly contracts will be valid until expiration, and will have to be renewed for two years afterwards. The new contract policy, however, affects only individual users - National, Federal, Goverment, Major and Small Business Accounts will still be able to choose a one-year contract agreement.
Thanks for the tip!
via
SmartPhoneNation
&
GadgetU