Verizon fined $93.5 million for fleecing Uncle Sam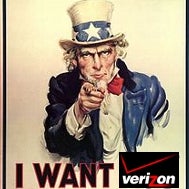 It always warms our hearts when the mightiest superpower in the world gets the same "meh" treatment from a carrier as your humble self. It just became clear that Verizon has settled with the government a lawsuit that accused it of making stuff up on the bill, to the tune of
$93.5 million
.
The Verizon whistle-blowing scandal started in 2004, since the carrier was slipping its own expenses into government clients' bills. The carrier asked for "
property tax surcharges, carrier cost recovery charges, state telecommunications relay service surcharges, and public utility commission fee surcharges.
"
In other words, the natural costs of doing business were shifted to the government, i.e. the taxpayer. A Verizon insider obviously started a lawsuit over the issue in 2007, represented by a D.C. firm.
These "pumped up" contracts were actually inherited from MCI, which has been overcharging the government since 1999. When Verizon acquired it, the tradition was carried over in its full glory, and the carrier even upped the scale of it, raising the tax-like surcharges further. It's not the first effort to fleece the government, nor will it be the last, but we bet Big Red now wishes it had been a Wall Street investment firm, and gotten away with it all.
via
MobileBurn