Verizon begins Advanced Calling 1.0 (aka VoLTE HD voice and video calling)
19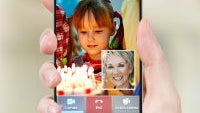 The plans have been in the works for a while, but Verizon is finally ready to upgrade its wireless network to handle voice over LTE (VoLTE) complete with HD voice and video calling. Verizon made the announcement today, and is calling the upgrade Advanced Calling 1.0. Unfortunately, while the features are turned on throughout the entire network, it will only work on certain phones.
When you click on the "compatible phones" list on Verizon's website, the only devices shown are the Samsung Galaxy S5 and the LG G3, but the iPhone 6 and 6 Plus are expected to join that list soon enough. But, any device that supports VoLTE should be able to get the advanced features, though you may need to tweak your settings and turn on VoLTE calling.
Once that is done, you'll get the HD voice and video calling, but there are still some questions left unanswered about the program. The number one issue that needs an answer is whether or not the data usage from VoLTE will count against your cap. This is a thorny issue, because counting against the cap could add up quickly, and Verizon charges a lot for data. But, if it doesn't count towards your cap, it raises Net Neutrality issues.