Verizon Wireless CEO: "We're not interested in Sprint. We don't need them."
34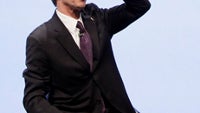 CTIA has already made quite a fewheadlines, but this one, made hours before the show, stands out. Verizon'svery own Dan Mead confessed in an interview to Reuters that Verizonhas no interest whatsoever in acquiring Sprint and thus joining thebiggest carrier race started by AT&T:
"We're not interested in Sprint.We don't need them," Mead commented. After such a boldstatement, we can't accuse Verizon of lacking swagger, for once.
The chief executive officer also saidhe won't oppose the $39-billion deal between AT&T and DeutscheTelekom, despite the fact that it will widen the gap between Verizonand AT&T, which recently outgrew Big Red and became the U.S.biggest carrier in terms of subscribers. At the same time, Meadmentioned that "anything can go through if you make enoughconcessions." Well, with Verizon withdrawing from any possiblelegal battles, the AT&T-Mobile deal seems to encounter much lessdifficulties in its approval. And while one of the biggest moves inthe industry happens, Big Red will become much smaller in terms ofsize, but in Meads words it won't be distracted from its goal ofbeing the most profitable carrier.
Recommended Stories