Verizon Ellipsis to be a new brand of value-driven devices
9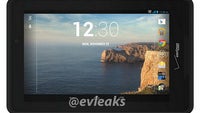 Well, well, well – look what someone just slipped anonymously under our office's door. The handout you see pictured below, reportedly given to Verizon staff during a meeting this morning, reveals that on November 7, the carrier will introduce a new brand of budget-friendly devices called Ellipsis. Does the name sound familiar? It should to those who keep a close eye on our news feed. Earlier today, the first device in this new lineup,
known as the Verizon Ellipsis 7 tablet
, was leaked, courtesy of
@evleaks.
The Verizon Ellipsis 7 is expected to be the first member of the carrier's Ellipsis brand. It is a 7-inch tablet running a seemingly stock-ish version of Android 4.2.2, with access to the Google Play store and a handful of apps provided courtesy of Verizon, namely VZ Navigator, Verizon Messages, My Verizon and Redbox Instant. The Ellipsis 7 has a 7-inch IPS display with "HD" resolution, which translates to a pixel count of 1280 by 800, we suppose. Under the hood is a 1.2GHz quad-core processor of unknown make and model – it could be Snapdragon 200, we guess, but the odds of it being a cheap MediaTek SoC seem higher. Clearly, a front-facing camera is present on the Verizon Ellipsis 7, but we can't be sure if there's a camera on the back as well or not. As mentioned in the handout, the internal 4000mAh battery should provide
"hours of battery life"
, which doesn't sound too reassuring. What you see below the screen of the device is actually a pair of front-facing speakers delivering stereo sound. The 8GB of internal storage can be expanded with the use of a microSD card. Last but not least, the Ellipsis 7 is 4G enabled, running on Verizon's LTE network.
All in all, the Verizon Ellipsis 7 isn't going to impress anyone with its design or specifications. It might draw attention, however, with its price tag. Set to launch for just $249.99 without long-term commitment, it is quite affordable, especially when its 4G LTE radio is taken into account. Those who don't mind signing a 2-year contract with Verizon will get a $100 discount. We expect to learn more about the Ellipsis brand and the Ellipsis 7 tablet on November 7. Until then, keep in mind that what you just read is not official information and parts of it might be inaccurate.
Thanks for sending this in!