VP of Product Management, Punit Soni leaving Motorola
14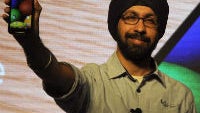 If you've become a true fan of Motorola over the past couple of years, you'll certainly have come across Punit Soni, who, until today, was Motorola's vice president of Product Management. Soni was a friendly face who would pop up in in various places (often Google+ comment threads) to add some information about a Motorola product.
Today, Soni once again took to Google+ to announce that he is leaving the company for parts unknown. He spoke fondly of his time on Motorola, and stressed his optimism for the company's future, saying:
Motorola is now firmly on the path of regaining its place as one of the most relevant companies of the mobile era.
Soni had been a manager on Google's Mobile Strategy team before he was appointed to his seat as VP of Product at Motorola in August of 2012, a few months after Google's purchase of the company was completed. Now, two years later, Soni is moving on, though he doesn't say what his plans are for the future, just that he wants to recapture the feeling he had when announcing the Moto G in Brazil.
It is unclear why Soni has chosen now to leave, although the early (and unsubstantiated) speculation attributes it to the pending sale of Motorola to Lenovo. If more information on the move comes to light, we'll be sure to let you know.