*Updated with pictures* Voyager in Titanium hits Verizon
99+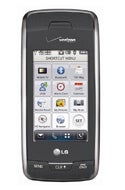 After almost 10 months since its original release, the LG
Voyager
is getting a slight upgrade, but we are unsure if this is the "
Voyager Refresh
" that we've heard about. The new
Voyager in Titanium
only has one hardware change, the color, but it comes preloaded with the newest firmware (VX10KV09). However, users of the original Black Voyager can take theirs to a local Verizon store for a free firmware upgrade. The most noticeable changes are the inclusion of
Visual Voice Mail
($2.99/month),
VCast Music with Rhapsody
, and City ID ($1.99/month) which displays the city and state of where a incoming calling is placed.
Both color options (
Black
and
Titanium
) are currently available from Verizon for $99 after rebate with a 2-year contract.
Here is a complete lists of upgrades found for V09, thanks to our friends from
HowardForums
:
· New Pre-Loaded Application: City ID
1. Visual Voice Mail
2. Smartlinks added for Mobile E-Mail and Visual Voice Mail
3. When sending a text, if you press [Shift] [4/$] to get the $, it displays $8.
4. Problem where the "Unlock" soft key is not displayed on an incoming call after phone is locked in the phone setting menu.
5. Fixed the following two lock-ups on the device:
6. When the user tries to move the image in [Settings & Tools], [Memory], [Phone Memory], [Options], [Move], [Select the image]
7. Select the same file to move and press "Done" in [Settings & Tools], [Memory], [Card Memory], [My Picture]
8. Shortcuts Menu on external display now supports dragging & dropping feature to move positions. In SET mode, Options(Right Soft Key) has been renamed to Reset.
9. When auto focus in camera is set to "Two Steps" the focusing sound plays even in vibrate mode. - Now Fixed
10. On the external display, pressing & holding "#" key now puts the phone in and out of the vibration mode, and pressing & holding "*" key is for international calling.
11. Pairing the LG Voyager with a MacBook Pro only shows OBEX File Transfer and OBEX Object Push as supported services. (Bluetooth modem is not listed as a supported service, also no options from the programming menu to enable it)
12. When you have the 10K set to "Vibrate Only" after pairing and using the Motorola H12 Bluetooth headset, then disconnecting (turning off the H12) the key tones become audible. To set the key tone to silent again you must increase the ring volume and then decrease back to "Vibrate Only." This is also duplicated using the Motorola H685 Bluetooth headset and the Voyager also. - Now Fixed
13. Online Album menu is added under Media Center – Picture & Video – 8. Online Album
14. Corrected the misspelling in the screensaver (Faburary -> February)
15. Changed the following verbiages:
"To PIX Place" to "To Online Album", "Get It Now" to "Media Center", "My Account" to "My Verizon", "Standalone Mode" to "Airplane Mode".
16. "Turning on Airplane Mode will disable all wireless communications." Help text has been added on the Airplane Mode.
17. Turning on Music Only Mode will disable voice and data calls. Bluetooth communication will not be affected." Help text has been added on the Music Only Mode
18. When customer selects pix and presses option to upload to pix place. As soon as you press (2) to upload phone reboots.
19. When you have ICE contacts set. When the phone is locked and you hit the "ice" button then hit options and then re-assign you can add a new contact. You can also reassign and unassign the ice numbers which should not be possible when the phone is locked.
20. When a user has a voicemail number setup with two 2-second pauses, then his/her password, when the user holds down the 1 key on the Voyager to dial into their voicemail box, as soon as the call connects, they hear a beep from the headset which triggers the earpiece volume to appear on the phone. This is preventing their password from being dialed automatically like normal.
21. "Show Dialpad" has been added under "Phone Settings – Call Settings" to provide an option to show/hide the dial pad on the external display during a call.
22. "Screen Saver" under Display Settings has been renamed to "Charging Screen."
23. "Auto Complete" feature has been added in entering a recipient's address/phone number in Messaging.
24. "Set Qwerty Shortcut" under "Phone Settings – Set Shortcuts" has been added.
25. "V CAST Music" has been changed to "V CAST Music | Rhapsody" under Media Center – Music & Tones.
26. Visual Voice Mail and Mobile Email have been added under Messaging.
27. Last call timer now gets reset when "Reset all" is selected.
28. "Vibrate on Scrolling" has been added under Touch Settings – Vibrate.
29. When "Dual Clock" is set, it now displays "Current Time" instead of "Current Time Zone."
30. In a call using Bluetooth device, pressing SPK key will transfer sound to speakerphone.
31. Go to 9
www.rediff.com
, select images, select nature/flowers, device reboots (repeatable). However if user turns java script off, device does not reboot.
32. Go to weatherbug.com. Enter zip code, phone resets and then comes up in a strange state where the browser displays an error when attempting to access.
33. When going to
www.abebooks.com
phone will shut off. Opened up the browser went to
www.abebooks.com
and phone will shut off
when page is loading.