Update log on Halo: Spartan Assault
5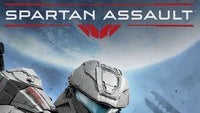 We've got a lot of interesting facts concerning the new Halo: Spartan Assault at Build, held June 26-28 in San Francisco. For starters, mid-July is when owners of Windows Phone 8 and Windows 8 devices could get their hands on the game. It won't be an FPS (First Person Shooter) game and it won't be out for the Xbox 360, yet 343 Industries (the company that "inherited" the franchise after BUNGiE started working on another project) have a few tricks up their sleeve.
Emphasis here will be on touchscreens. It's difficult for one to strafe and aim without analogs, while throwing grenades and shooting at stuff. Not everyone owns a controller for their portable device, yet accessibility to swipe, pinch and touch is what we all get with our screens. 343 Industries strive for the corresponding experience on the corresponding device.
Upon paying $6.99 for the game you are instantly subscribing for future updates and add-ons. The main campaign will be consisting of 5 operations, composed of 5 levels each, or a total of 25 missions. The approximate gameplay duration will be 2.5 hours, or 6 minutes per level on average. The reason for that, according to 343, is the mobile gamer usually plays on the go, while waiting in a queue at the bank, or simply has a few minutes to kill. Accent here will be on the main campaign with further missions to be delivered, while multiplayer is still a mystery.
What we also learned is that within a month of the release date, the game's developers intend to release an update, which will add support for the Xbox 360 gamepad. For now 343 wants to focus on touch for mobile devices and keyboard for the Surface RT. Speaking of the latter, it's going to run the game at 30 frames-per-second, while it's big brother, the Pro version, will double that digit to 60 frames-per-second. As far as Windows Phone devices are concerned, they will be getting around 30 frames-per-second gameplay. Oh, did we also mention the over 60 minutes of original audio that we are hyped about?
Be sure to be checking PhoneArena on a regular basis for our future review of the game!
source:
Windows Phone Central