Update could greatly improve iPhone 5s fingerprint scanning accuracy
43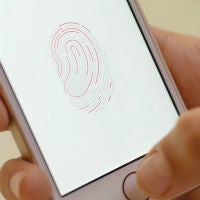 While the Touch ID fingerprint scanner for the iPhone 5s has been an impressive addition to the handset, some users have had issues with accuracy and reliability. The concerns have been growing louder, because it seems the problem has been one that gets worse over time. But, a new rumor says that Apple is readying a fix for Touch ID.
Some users have noted that the accuracy of the Touch ID would "fade" over time. A workaround to the problem would be to simply retrain the system, but the issue has been persistent, so you would end up having to retrain the system with your fingerprint at regular intervals. This is a similar issue to that found on the Motorola ATRIX 4G which used the AuthenTec fingerprint scanner technology before Apple purchased AuthenTec.
Supposedly, Apple has figured out how to fix the issue and is getting ready to release a software update to address problems. Unfortunately, we don't know when the update will be coming. It is possible that the fix is part of the iOS
7.1
update that is due out within the next month, but that can't be confirmed at this time.