Ubuntu 13.10 Saucy Salamander (aka Ubuntu Touch) now officially available for phones
15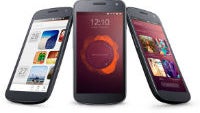 It's been a long road since the original announcement from Canonical founder Mark Shuttleworth; and, it has been a lot of work by Canonical and its Ubuntu Community. But, Ubuntu 13.10 Saucy Salamander was officially released today, which means that Ubuntu Touch is ready for its first time running on smartphones.
To be fair though, this first release is really aimed at developers working on apps for the platform, and for manufacturers working on hardware that will run the new mobile OS. There is no official download link for the software, but if you follow the usual installation process, you will get the newest release. Ubuntu Touch will come with a few community-built apps like browser, clock, weather, and calculator, as well as the full SDK.
Canonical did
confirm to us previously
that this would be the release path for the OS. Today marks the first release ready to ship to manufacturers; and, when the first actual hardware is ready to launch running Ubuntu Touch, Canonical will be ready to launch the Ubuntu Software Centre for phones at that same time. In the meantime, Canonical will be working on bug fixes and optimization for tablets which should be done for the April 2014 (Ubuntu 14.04) release.
Ubuntu Touch officially supports the Galaxy Nexus, Nexus 4, Nexus 7 (2012), and Nexus 10, but the community has extended unofficial support to dozens of other devices including popular devices like the Samsung Galaxy S, Galaxy S II, Galaxy S III, Galaxy Note, and Galaxy Note II.