Uber sued over multi-million divorce
13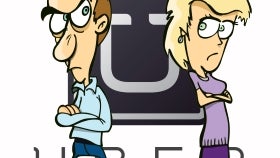 Uber is known for having
more than its fair share of legal problems
. The company has been in
so many legal disputes
that we lost count a long time ago. But this one report from the French media Le Figaro, quite honestly, caught us by surprise.
A businessman from Côte d'Azur, France, is suing Uber for destroying his marriage. According to the plaintiff, a bug in the ride-hailing app allowed his then wife to pinpoint the man's location, which in turn resulted in their divorce, so he now demands Uber to pay damages for a total of 45 million euros, which is around $48 million. The first hearing is scheduled for next month.
Le Figaro doesn't give any specifics as to where the man actually went and why his now ex-wife was furious over it, but we believe it's pretty easy to imagine a variety of scenarios. But how did she find out in the first place?
It appears that the man borrowed her iPhone and logged into the Uber app. Afterwards, he logged out and returned the phone, but his wife still got a notification that was meant for her husband's account, which allowed her to pinpoint the businessman's location.
When Uber was approached by Le Figaro for comment, it said:
"Uber doesn't comment publicly on individual cases, and especially on cases that involve a divorcing couple."
The French media didn't give up, though, and went on to replicate the bug with limited success. A second iPhone was indeed sent a notification from an account that was previously used on it. But said notification didn't provide any location data.
However, it appears that some users report the same issue on Twitter, such as the one below.
Why am I still getting @emilyybertrandd uber notifications bein sent to me even though I signed out

— nicole (@niicolesmiith_) December 2, 2016
Good news is that the bug is iOS-exclusive, as far as we know. So, Android users must not worry about their wives tracking their location via the ride-hailing app.
source:
LeFigaro
(
Translated
) via
Cnet