US carriers get ranked by latency, T-Mobile snatches a close win
32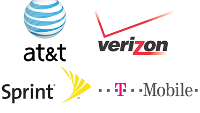 We spend a lot of time talking about smartphones and the heaps of tech that goes into them, but it's quite rare that we talk about the companies that make the operation of our smartphones possible – carriers. It feels like pretty much nobody likes his carrier, but it's fair to say you and us both are at their mercy, though they do have more than enough motivation to try and keep us happy. That latter one usually involves a high level of cellular coverage, a high-speed network... and a low latency. You see, everything but this last category gets talked about a lot, which is weird seeing as we're increasingly substituting our desktop and laptop computers for the devices in our pockets. It's only natural, then, that we get more inquisitive about the level of the service we receive, and beyond just raw bandwidth.
Ask anybody that does serious gaming, or even casuals that have had to go through the nightmare that video chats are on a high-latency connection. Suddenly, all that bandwidth becomes entirely redundant, as latency is the time it takes for any one packet (or a bunch of them) to make the trek between the source and the target, which is what really counts in a real time environment. FierceWireless, teaming up with OpenSignal (an app), have taken to the task of compiling a quick latency comparison between what it calls Tier 1 carriers – AT&T, Verizon, Sprint and T-Mobile – and their respective networks.
Looking at the scores, T-Mobile, the smallest of the contestants, actually ends at the top, across its myriad of 3G and 4G LTE networks. As you can see, the carriers have been grouped in two groups of two, as they rely on different technologies, though we could simplify (dangerous) things by saying that UMTS, HSPA, HSPAP, eHRPD and UMTS are essentially all technical standards based on 3G networks. Now that we've exhausted the confusing technical abbreviations, it's to time feast our eyes on the results below.
In all honesty, the differences are pretty minor for the most part, especially on the 4G LTE front, which is what currently counts for most. That being said, Sprint's 3G infrastructure is significantly slower than the rest.
Some of you may feel like disregarding data such as this, but it's more than likely that latency will play an increasingly important role in your overall mobile experience as we go ahead.
source:
FierceWireless