US carriers are removing some of the Samsung Galaxy S6 and S6 edge pre-loaded apps
45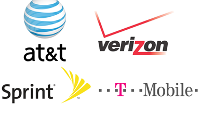 When Samsung unveiled the
Galaxy S6
and the
Galaxy S6 edge
at MWC 2015, the company announced that it has reduced the number of apps that come pre-loaded the new TouchWiz version, while also promoting the inclusion of multiple productivity-oriented apps from Microsoft such as OneDrive, Skype, OneNote and Office Mobile.
As it turns out, all of the four major US carriers have put the Galaxy S6 and the Galaxy S6 edge through an app diet, and have removed multiple pre-loaded apps from Samsung's flagship smartphone series. Unfortunately, the carriers then proceeded towards installing their own apps, drawing some criticism from the online community.
Out of the four major US carriers, Sprint seems to be the most permissive, as the carrier only removed Download Booster (an app that combines Wi-Fi and LTE connections in order to improve download and upload speeds), while also disabling Wi-Fi calling as the default setting. Download Booster can be downloaded from the Google Play store, and Wi-Fi calling can be enabled from the settings.
T-Mobile was a bit more restrictive then Sprint, as the Magenta carrier removed S-Finder and Quick Connect from the drop-down menu, while also stripping users of their ability to disable the background lights of the capacitive buttons.
AT&T pushed things one step further by removing Download Booster, Simple Sharing (a feature that allows users to quickly share large files), and the Smart Manager app (an app created by Samsung to help users manage battery and storage use on the Galaxy S6 and the S6 edge). AT&T also removed Microsoft's OneDrive app, one that came with 100GB of free cloud storage.
Verizon was the most aggressive carrier, as Big Red removed Smart Manager, as well as every single Microsoft app pre-loaded on the unlocked versions. This means that OneDrive, Skype, OneNote and Office Mobile are all missing from Verizon's versions of the Galaxy S6 and the S6 edge.
Out of all these apps, the only one that you can't download from the Play Store is Samsung's Smart Manager. While downloading OneDrive from the Play Store will work, you'll only get 15GB of free cloud storage, an offer that's available to all OneDrive users.