US Transportation Secretary wants distracted driving to be a federal offense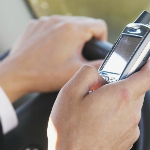 Distracted driving is one of the newer hot topics that every politician needs to jump on unless they want to be labeled as "uncaring" or "out of touch". The more popular cell phones become, especially smartphones, the bigger the problem gets; and now, US Transportation Secretary Ray LaHood wants to elevate the issue to federal law.
That may seem big, but there are already laws on the books in 38 states that cover distracted driving, from laws mandating the use of hands-free devices to those flat out banning cell phone use while driving. So, making this a federal law would just be unifying those laws and adding in those last 12 states to the safety standard. LaHood's plan is to ban cell phone use while driving nationwide.
LaHood said his department is still researching how hands-free devices or voice-activated systems factor in. Just last year, LaHood refused to support a proposal from the National Transportation Safety Board which sought to ban cell phones completely, even with hands-free devices. Apparently, it only took the approximately 3,000 fatal crashes in the past year (and the opportunity to propose the law himself) for LaHood to decide this was a topic worth putting forward.