US Supreme Court now weighs if cellphones can be searched without a warrant
21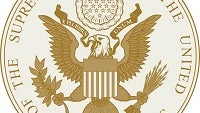 Today, the US Supreme Court heard arguments related to whether police need a warrant to search someone's cellphone, even if that person is under arrest.
Two cases were argued, in Riley v. California the issue is whether Fourth Amendment rights afforded under the Constitution were violated as a result of evidence obtained from a cell phone and subsequently used at an earlier trial, resulting in a conviction.
In the United States v. Wurie, the argument is whether the Fourth Amendment allows the police to search someone's cellphone without a warrant in the event of that person being under lawful arrest. In both instances, it appeared the Court was pensive about enabling unleashed power to the police when it came to searching cellphones without a warrant.
The argument in favor of allow searches is based on the fact that police are able to clear an arrestee's pockets to ensure preservation of evidence and clear any possible harm to the arresting officer. The Obama Administration and State of California stated that cellphones have no greater protection than anything else found during such a search.
"People carry their entire lives in their cellphones," according to Justice Elena Kagan. Justice Antonin Scalia also noted, "It seems absurd that they should be able to search that person's iPhone" if someone were pulled over for driving without a seatbelt.
The Fourth Amendment states plainly,
"The right of the people to be secure in their persons, houses, papers, and effects, against unreasonable searches and seizures, shall not be violated, and no Warrants shall issue, but upon probable cause, supported by Oath or affirmation, and particularly describing the place to be searched, and the persons or things to be seized."
In the 1970s, the Supreme Court did rule certain exceptions in the event a police officer placed someone under arrest. However, a number of Justices seemed concerned about applying such rules to rapidly advancing technology. Much of what we keep on our phones is as private as anything we keep in our homes.
In the case of Riley v. California, police used photos and videos on his phone to convict him of attempted murder and other charges. In US v. Wurie, police checked his call log after he was arrested for selling drugs and used that to determine where he lived. They then searched his home with a warrant and found drugs, a gun and some ammunition.
"How do we determine what the new expectation of privacy is?" asked Justice Samuel Alito.
Rulings on these cases should be handed down in late June.
source:
Fox News