UPDATED: Opera Mini app for the iPhone available for free, we like it
5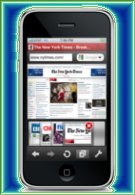 In what some may consider a stunning move, Opera Mini has received its approval from Apple and will become readily available
for free
within the next 24 hours depending on your market. It's almost hard to imagine that Opera Mini has finally gotten its wings and bound for the iPhone where its current native browser reigns supreme amongst the competition. The technology behind Opera Mini basically compresses data by up to 90 percent before it gets shipped out to the device – thus, it significantly brings forth faster page load. Lars Boilesen, CEO of Opera Software said, "
We are delighted to offer iPhone and iPod touch users a great browsing experience with the Opera Mini App. This app is another step toward Opera's goal of bringing the Web to more people in more places.
"
UPDATE: As we've seen in demos, the browser works quite fast and we are impressed by the actual speeds even on EDGE or a slow Wi-Fi network. Opera Mini is about 2.5 times faster than Safari, and this really saves time (and data). The text wrapping makes the pages with lots of text look funny when zoomed out, but allows for reading without horizontally scrolling when zoomed in. Zooming and scrolling is also really snappy! For zooming, you can double tap or pinch-to-zoom, but you cannot choose the zoom level - you either see it zoomed out (for browsing around the page) or fully zoomed in. We like the interface for selecting a tab (you see a thumbnail of the loaded pages) and the feature allowing you to search for text in the page.
As every normal product, Opera Mini has its flaws. Some pages' modules do not visualize correctly, and leave lots of empty space for no reason. Flash is not supported, and the user cannot even notice there is some in the page. For example, if the page has a YouTube player embedded in it, it will be hidden in the Opera Mini browser. However, the app is free, so we really recommend it to every iPhone user out there. Test it yourself and tell us what you think in the comments below.