*UPDATED* BlackBerry Storm officially announced by Verizon Wireless
83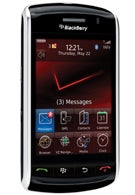 *
Update
* As it was expected, thanks to the leakage of the press release, Verizon Wireless officially announced the Storm, the first touchscreen BlackBerry. See the link in the end for the official announcement
It looks like Verizon is prepping a press release to be released later today to officially announce the Storm. Of course it hasn't been a secret for a while, but we always love official, high resolution shots and spec sheets!
blackberry.com/storm
is active with a few demos, and Verizon has their own
/storm
site as well though it's decidedly less informative right now. One interesting note, GPS and BlackBerry Maps are mentioned in the same sentence so maybe Verizon will allow this to be GPS unlocked (
maybe,
there are a whole lot of superscripts after it.)
via:
BGR
The Storm is a CDMA/EV-DO Rev. A phone for Verizon, which sports quad-band GSM and 2100MHz HSPA for 3G roaming in Europe. It has a 3.2" 480x360 touchscreen, 3.2MP auto-focus camera, 3.5mm jack and stereo Bluetooth. It also features GPS, fa ull HTML browser and an onscreen QWERTY keyboard in landscape mode and SureType in portrait view.
source:
Verizon Wireless
Engadget
and
Gizmodo
have gotten some their hands on the Storm, and while they they had some gripes (size, browser) they came out impressed.